Annu Kapoor Robbed In France: Famous actor of small and big screen Annu Kapoor is in France these days and during this time he became a victim of a big accident. Annu shared the video and told that his valuables were robbed during his Europe trip. After this sentence, now filmmaker Hansal Mehta has also told his ordeal.
Actually, a video of Annu Kapoor is becoming very viral on social media at this time, in which he is seen sitting in a train in France and is seen referring to an incident that happened to him.


Reacting to this video, Hansal Mehta told that some similar incident has happened with him too. Hansal Mehta has shared his experience through a tweet. He wrote that 'I saw a video of Annu Kapoor sir in which he is telling that his valuables were looted in France. Something similar is my experience too. My purse was stolen and my cash at the Louvre Museum. Debit, credit cards were all gone. He further wrote, 'I also had two small daughters with me. I then called my wife and told what happened to me. I told him to give me some money so that I can come back. Due to panic and fear, my entire family vacation was ruined. I got the cards blocked again.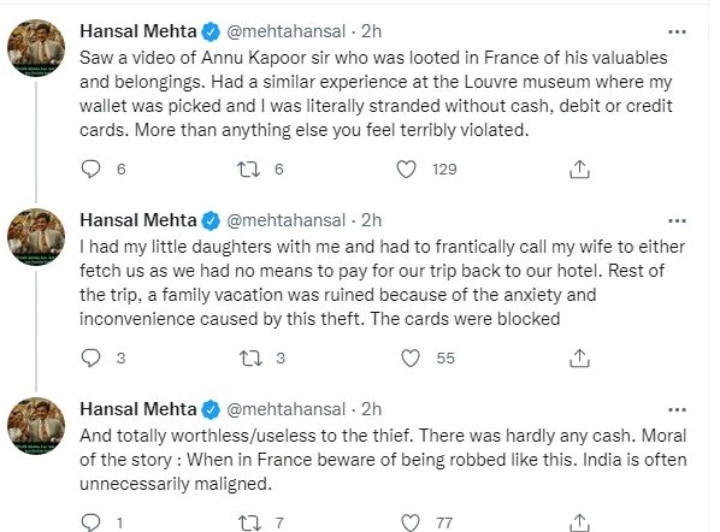 Instructions given to those going to France
Hansal Mehta told how he did not let the thief succeed. According to him, there was hardly any cash in the purse. The cards were also blocked. Moral of the story is that when going to France, beware of this kind of loot. India is defamed for no reason.
Also read-
The Lord Of Rings: The Orcs' first look is out, fans are in panic after seeing the dangerous face
Anshula Kapoor: Anshula Kapoor shared her security by sharing the video, brother-in-law Anand Ahuja said this by commenting