leo kalyan trend: Punjabi singer and Congress leader Sidhu Moosewala was murdered a few days ago, after which Moosewala has been in constant discussion on social media. The fans of Sidhu Musewala are paying tribute by remembering him till now. Alam is that Sidhu Musewala has joined the top 6 trends in India, but do you know there is another artist who is trending more than Sidhu Musewala in India at the moment. Surprisingly, that artist is not an Indian artist but a British-Pakistani artist. These artists were seen with Sonam Kapoor in the past, after which people have become restless to know about them. Let us tell you who is that artist after all?
Actually, in the past, a singer had gathered at Sonam Kapoor's baby shower. The name of that singer was Leo Kalyan. Leo arrived in Sonam's party wearing a one-piece dress, after which there was a discussion among the people that who is this person? On searching, it was found that Leo is a Muslim Gay British-Pakistani Singer. Leo was born in Lahore, but settled in London at an early age. Leo himself has informed on his Instagram that he is included in the top 5 trends in India. Leo has shared a screenshot of Google Trend on his Instagram, in which his name is seen above Sidhu Musewala., see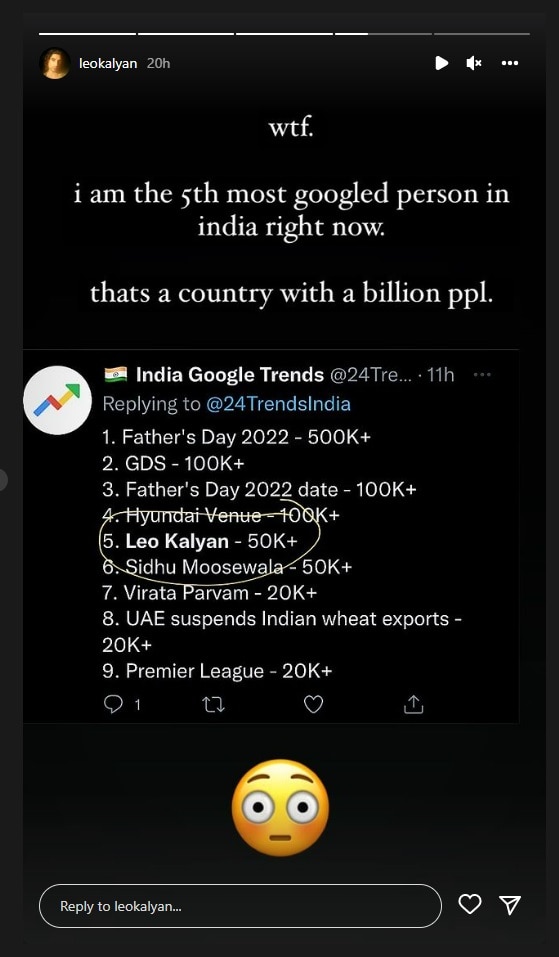 Let us tell you that the foreign looking Leo Kalyan was born in Lahore. As a child, he lived in Pakistan, but at the age of 10, he came to London and then often traveled from London to Pakistan. According to the news of Notion, Kalyan liked to stay in London, he used to go to Pakistan as a bus. According to the information, Leo is a gay artist. If you see Leo Kalyan's Instagram, he has described himself by writing he/she/they in his bio. Leo Kalyan is a Muslim by origin.
Leo Kalyan, who arrived at Sonam Kapoor's baby shower, has a deep connection with Pakistan, you will be stunned to know