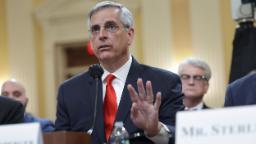 CNN
 — 

The January 6 committee held its fourth public hearing on Tuesday, focusing on Donald Trump's pressure campaign on officials in states like Georgia and Arizona, where the 2020 election was close.
I watched the hearing and took notes on the lines from it that you need to see.
This is a critical thing to understand when it comes the January 6 committee's investigation and findings. This is not just – or mostly – about what happened on January 6, 2021. It's about what's happening across the country as election deniers seek offices where they would have considerable control over elections. One needs only look to the recent dispute in New Mexico to see why this is a clear and present danger to democracy. And, oh yeah, Trump, the ringleader of this election denialism, is showing every indication that he plans to run for president again in 2024.
Barr continues to be the star witness for the January 6 committee. Here Barr flatly rejects the idea pushed by Trump and some of his lawyers that thousands of illegal votes had been cast in Fulton County, which contains the city of Atlanta. Trump personally pushed Georgia Secretary of State Brad Raffensperger, a Republican, to "find" him more than 11,000 votes so that he could win the state.
This is about as blunt as you can be in terms of sending a message to the Justice Department. It's important to remember here that the January 6 committee does not have the power to charge anyone – up to and including the former President – with criminal wrongdoing. The committee can (although it's unclear if they will) make a criminal referral to the DOJ. But even then, the Justice Department is under no obligation to pursue criminal charges.
Cheney's call to move beyond politics in assessing what happened on January 6 (and why) will fall on (mostly) deaf ears in the public. But that doesn't make what she is saying wrong. Her point is that what happened on January 6 was about right and wrong, about adhering to the Constitution or breaking from it in a hugely ahistorical way. Cheney isn't just talking the talk here. Her position as vice chair of the committee – as well as her vote to impeach Trump – may cost her a seat in Congress later this summer.
This is a hugely important point made by the California Democrat. Yes, Trump's scheme to overturn the 2020 election failed. But were it not for people like Raffensperger and Arizona state House Speaker Rusty Bowers standing their ground amid a withering assault from Trump and his allies, the outcome could have been very different. And the idea of democracy in the US could have been badly damaged, if not shredded entirely.
This was Bowers' response to a question as to whether former New York City Mayor Rudy Giuliani and Trump lawyer Jenna Ellis had ever provided him with any proof of their claims that there had been widespread fraud in the state. So…
Bowers recalled that Giuliani told him this when he repeatedly pressed the former mayor for evidence to back up the claims that the election had been rigged. Wow. Just wow. I'll leave it to former Trump White House chief of staff Mick Mulvaney: "That, ladies and gentlemen, was the head of the President's legal team."
Bowers recounted how right-wing lawyer John Eastman had called him on January 4, 2021, and asked him to decertify the Arizona electors. Bowers declined. Two days later, on the morning of January 6, Arizona Republican Rep. Andy Biggs called Bowers to make the same ask. Again, Bowers declined. He referred to the whole effort as a "tragic parody."
A simple, but incredibly powerful statement here. Bowers repeatedly referred in his testimony to holding true to the promise he made to uphold the Constitution. Bowers, at times emotional, made clear that there was simply no legal or lawful way to do what Trump and his team was requesting be done to overturn the Arizona election.
This is from a call Trump had with a Georgia election investigator looking into his various allegations of fraud. The not-so-subtle implication is clear: Just do what Trump wants and be praised. And of course, the opposite is also true: Don't do what Trump wants, look out.
It's that simple. Raffensperger told Trump, repeatedly, that all of his claims about the vote in Georgia were false – and that he simply didn't get enough votes to win. As Raffensperger told the panel: "At the end of the day, President Trump just came up short." To say anything else was impossible.
During a 67(!)-minute phone call with Trump, Raffensperger offered to send the then-President a link to a local TV station that directly debunked Trump's claims that "suitcases" of ballots had been brought in to the space where the evidence was being counted. Trump responded by saying he had "a much better link." He, uh, didn't make clear what that "better" link was.
The flippancy inherent in this request, which came from Trump to Raffensperger, is titanic. Trump seems to think it is nothing for Raffensperger to "find" enough ballots to put him over the top in Georgia. To be clear: Trump is asking the top election official in Georgia to simply find 11,00 votes to overturn the will of the people in the state. And does it as if he's asking for nothing more than asking for a cup of water.
Moss, who, along with her mother, became scapegoats for false election fraud claims pushed by Trump and Giuliani. Giuliani alleged that they can be seen on tape exchanging USB drives. Moss said today that her mother was passing her a "ginger mint." The toll that being singled out by the former President of the United States has taken on Moss (and her mother) was brutal to hear. Moss tearfully recounted that she doesn't go out any longer, she's gained weight and she left a job as an election worker that she clearly loved. It was hard to listen to. But also necessary to listen to.